The course
The current racecourse was the brainchild of Johnny Wills, John Phillips and Charlie Brooks and is relatively new, having moved from Heythrop to Cocklebarrow back in 2014. Between them, they built the course from scratch. The fences are inviting and well positioned/sited and it is now one of the very best tracks in the country, renowned for its fantastic drainage and excellent viewing from the infamous mound stand.
As part of our continuous improvement program, the course was verti-drained in Dec 2018 which has made a noticeable improvement. It runs left handed and is wide and rectangular in shape with a distance of about 1m2f with minor undulations, built on site of former wheat fields. It is quick-draining Cotswold brash soil which is likely to ensure the surface doesn't become too testing, perfect for an early season outing. Portable fences are all metal-framed, well built and up to size.
There will be three pony races starting around 1030hrs before the main Point-to-Point racing at 12 noon.
Race 1: 7 furlong 148cm & under NOVICE rider conditions
Race 2: 7 furlong 138cms & under OPEN
Race 3: 9 furlong 148cms & under OPEN
In addition to the main prizes, there will also be a prize for the highest placed Heythrop member of each race and the Twiston-Davies Cup which will be given to best Heythrop overall.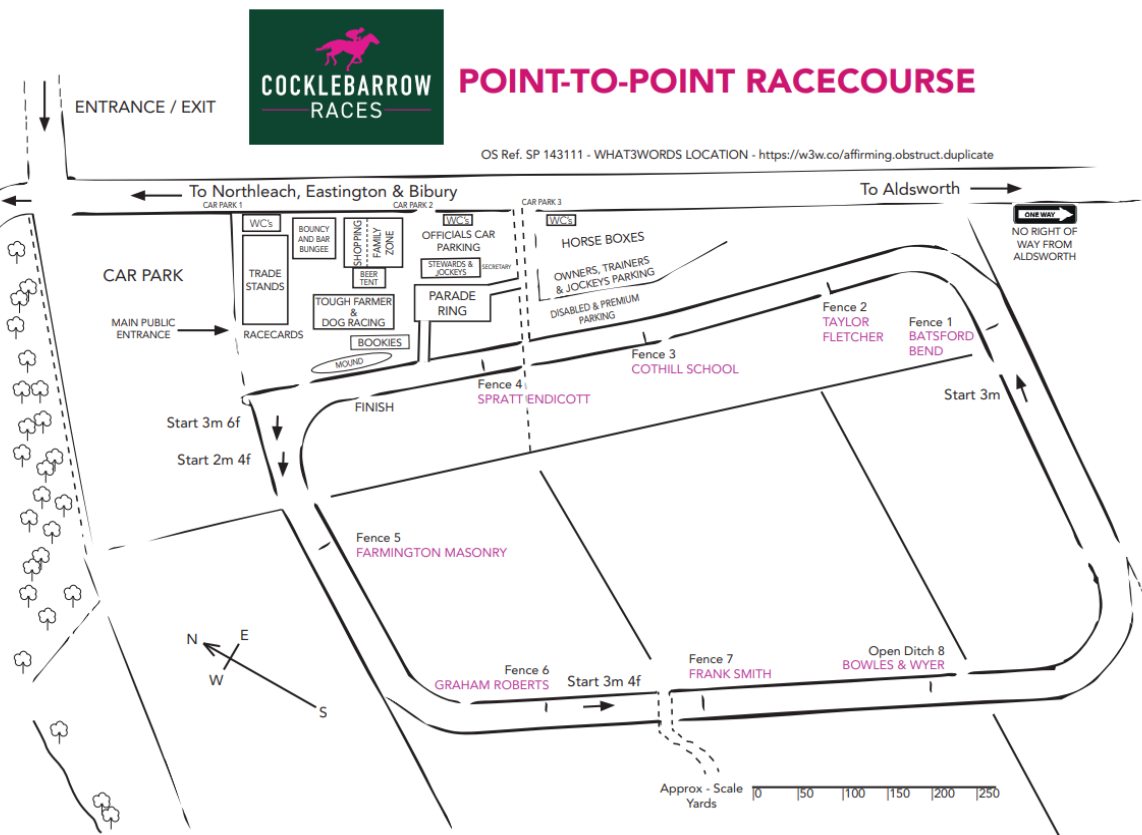 DUBARRY OUTSTANDING PERFORMANCE AWARD
Dubarry, the eponymous Irish outdoor clothing brand is sponsoring an Outstanding Achievement Award across all the races at Cocklebarrow this weekend. The Award, to be judged by representatives of Dubarry, Cocklebarrow Races and the Point-to-Point media, will adjudge a Keeper, rider, or stable hand adjudged to have made an extraordinary contribution to the day's sport. The winner will receive a £500 voucher to spend with Dubarry in the London or Cheltenham shops or online.
Have your say too by tweeting to #cocklebarrow and join the debate!
Course Inspection
16 January 2022: The course is in cracking condition and with no racing in 2021, we definately have the best covering of grass ever. Going is good to good to soft. The forecast for race day is currently dry and sunny, so by race day, we expect the track to be GOOD all round. A great place to bring a young or old horse!

Entries
Generously sponsored by Warwick Racecourse, Pony racing entries close at 2000hrs on Sunday 9th January. Entries can be made online at www.ponyracingauthority.co.uk. Racing will take place before the Point-to-Point racing. For any queries, please call the secretary, Mrs Cathy Twiston-Davies on 07778 000 419 or email her cathy.twistondavies@btinternet.com. For Point-to-Point entries, these close on Monday 17th January at 1230hrs.
Owners & Riders' admission
Tickets will be emailed prior to the race day and admit the Rider only. Guests can purchase their entrance via this website or may be charged a premium admission at the gate.
SCHOOLING OF HORSES
Unfortunately there will be NO schooling available this year.
A TASTE OF WHAT IT'S LIKE TO RIDE THE TRACK
Click on the following video to experience the thrill of Cocklebarrow!
images