The course
The current racecourse was the brainchild of Johnny Wills, John Phillips and Charlie Brooks and is relatively new, having moved from Heythrop to Cocklebarrow back in 2014. Between them, they built the course from scratch. The fences are inviting and well positioned/sited and it is now one of the very best tracks in the country, renowned for its fantastic drainage and excellent viewing from the infamous mound stand.
The course runs left handed and is wide and rectangular in shape with a distance of about 1m2f with minor undulations, built on site of former wheat fields. It is quick-draining Cotswold brash soil which is likely to ensure the surface doesn't become too testing, perfect for an early season outing. Portable fences are all metal-framed, well built and up to size.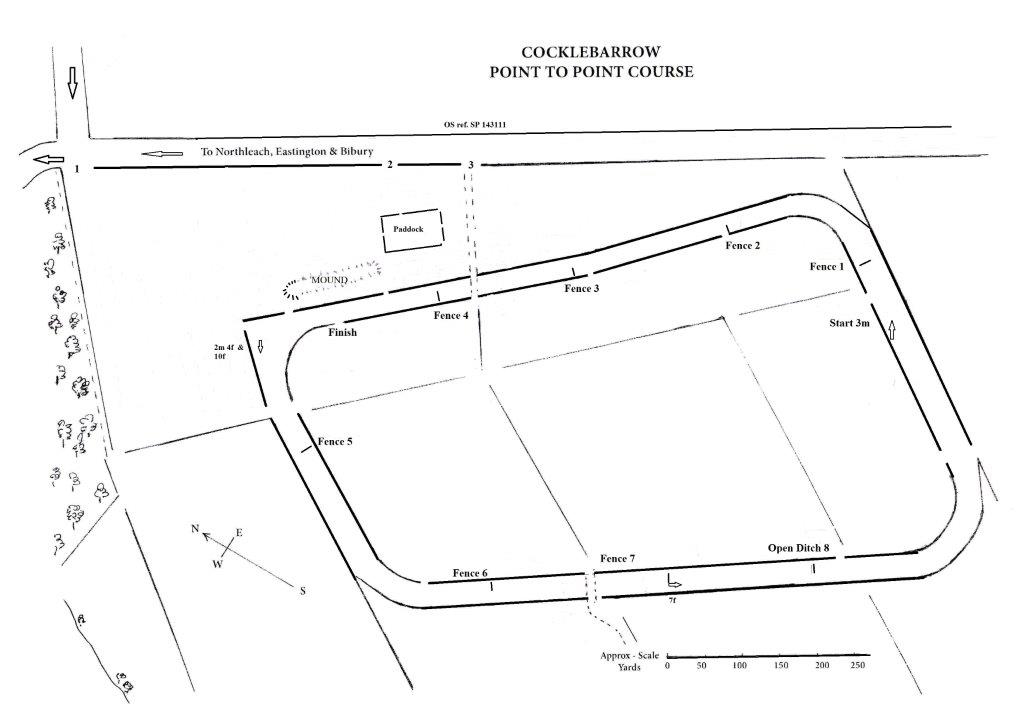 Course Inspection
27 January 2018: Clerk of the Course, Nick Phillips reports "After 6mm of rain today, the going is SOFT"
21 January 2018: We have had 9mm of rain today and a dusting of snow. The ground is GOOD, GOOD TO SOFT, SOFT IN PLACES. Showers forecast this week with 6mm due on Wednesday and 3mm on Saturday. Dry and partly sunny on race day.
18 January 2018: Course inspector Jon Trice Ralph passed the courseand said "the course was in its best ever condition with a fantastic grass cover". The going is GOOD, GOOD to SOFT in places.
This weather forecast is generated by the Met Office Weather Widget
Entries
Entries close on Monday 22nd January at 1230hrs.
Owners & Riders' admission
Tickets will be emailed prior to the race day and admit the Rider only. Guests can purchase their entrance via this website or may be charged a premium admission at the gate.
SCHOOLING OF HORSES
You are welcome to school horses immediately after racing but please contact Nick Phillips on 07976 240 874
A TASTE OF WHAT IT'S LIKE TO RIDE THE TRACK
Click on the following video to experience the thrill of Cocklebarrow!
images