Did we see a Foxhunter winner at Chaddesley this week?
30-December-2021
30-December-2021 17:23
in General
by Peter McNeile
It may be early yet in the Point-to-Point season, but we have quite possibly already see this year's Cheltenham Foxhunter winner in Premier Magic, a winner of a competitive Men's Open at Chaddesley earlier this week.
Having been treated to an exceptional Ladies Race 30 minutes earlier (of which more in a moment), it was too much to expect similar fare to be served in the Men's equivalent, but luckily for racegoers it did, with last year's Cheltenham Foxhunters winner Porlock Bay putting his reputation on the line against the 2021 Dudley Cup winner Premier Magic.
Bradley Gibbs was content to let Complete Sizing cut out the donkey work and the latter was still in front with half a mile to run but both Porlock Bay and Premier Magic were primed to launch their attack which Biddick and Gibbs did up the final hill.
There was little between the three horses at the 16th, but approaching the final bend Premier Magic and Porlock Bay quickened clear and made their bid for glory with both jockeys firing their horses into the penultimate obstacle.
Premier Magic held a narrow advantage approaching the final fence but Porlock Bay quickened into the fence and started off up the run in with a slender lead before Gibbs forced his mount's head in front again approaching the line to claim a length victory.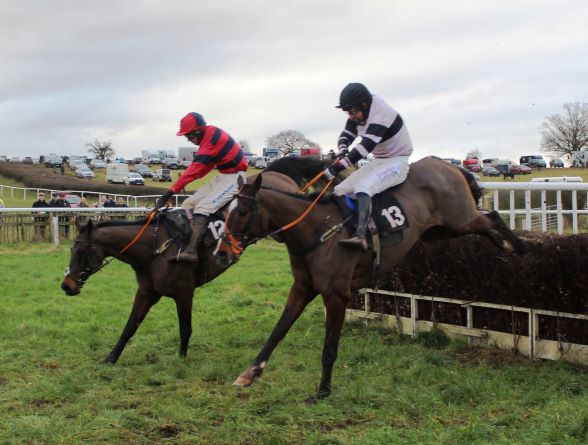 It's a long 12 weeks to Cheltenham, which will also be run on very different ground, but if this is what we can expect to see, we have a treat in store.
However, the Harkaway Club card may well flush out an additional Foxhunter candidate in Dubai Quest, winner of the Ladies Open, and creator of a new record for Gina Andrews, equalling Pollly Gundry's long record of 303 Point-to-Point winners. As our champion lady rider, it seems a foregone conclusion she will become the new record holder before another fortnight has passed.
In this race, Tango De Juilley, Dubai Quest and Red Indian dominated the market, with the latter most people's idea of the winner. Tango de Juilley and Flora Guy had galloped a Ffos Las Mixed Open field into submission and set out to achieve the same objective in this race.
They were soon in the box seat, while Dubai Quest sat in the leader's slipstream, whereas Red Indian was a lot further back, until making a forward move at half way.
Tango de Juilley started to stretch his lead entering the back straight, but tried to walk through the 13th and having lost several lengths as a result of that mistake this left the door open for Dubai Quest and Red Indian who reduced the leaders advantage a few fences later.
These three horses then galloped clear of the field with Andrews's mount drawing level at the third from home, but just when it seemed Tango de Juilley would pay for his earlier endevours, Miss Guy's mount showed remarkable battling qualities and soon got back on level terms, while Alice Stevens and Red Indian were struggling to pick up the leaders.
Andrews got down into the drive position at the second from home and settled matters with another prodigious leap at the last and Miss Guy accepted defeat halfway up the run in.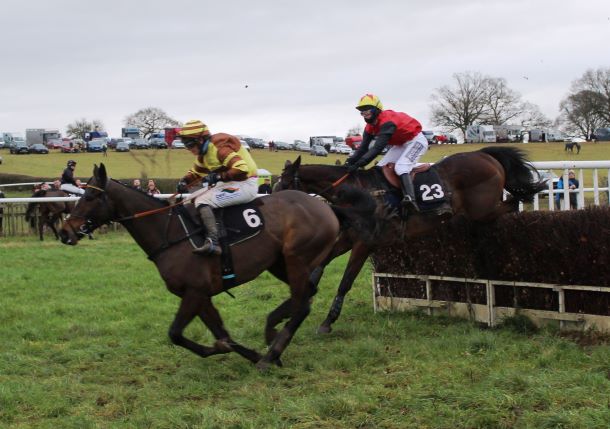 While the winner received the plaudits and was earmarked for a potential engagement at Cheltenham in March, the runner up deserves some credit as he finished two and a half lengths in front of Red Indian.
Questioned afterwards about equalling the record Andrews replied modestly "I am pleased to reach this total and match what Polly did. I watched the seconds previous run and was a bit nervous but was confident when I got on level terms".
This was the first in the series of races run in memory of Lorna Brooke and she would have been pleased to see a race of this quality dedicated to her memory, with most impartial observers predicting "this was the race of the season".
Earlier in the week, champion trainer Paul Nicholls had saddled no less than five runners in the King George VI Chase at Kempton. However, he's a great supporter of the grass roots of the sport, and the Novice Riders race provided a perfrect opportunity to launch a second daughter into race riding.
Nicholls admitted to feeling "nervous" after seeing his 16-year-old daughter Olive open her account in the Novice Riders.

She teamed up with Virak which Nicholls owns in partnership with Worcestershire based Clive Hitchings. After early skirmishes the race became a battle between Dounikos, Virak and Looksnowtlikebrian with Doc Carver a further 12-lengths back in fourth, with that gap widening even further with half a mile to run.
Virak started to edge clear climbing the final hill and had seen off the challenges of Looksnowtlikebrian and Dounikos, but Rebecca Pugh and Doc Carver swept past those two rivals and looked a big danger on the home turn.
Doc Carver momentarily got his head in front between the final two fences, but Virak then showed his class and settled the issue with another quick and efficient jump at the last that allowed his young rider to push her mount clear as they raced towards the judge.
Nicholls explained the Virak was "the ideal schoolmaster" and how the sport has helped his own career progression and "is vital as it provides jockeys and stable staff for the future", while his daughter described the occasion as "amazing and thrilling" and stated how the horse had "helped her out all the way".