Thoroughbred Breeders Association backs young horse maiden series
30-September-2021
30-September-2021 14:54
in General
by Peter McNeile
Britain's Thoroughbred Breeders' Association (TBA) is to sponsor a breakthrough series of races for four-year-old maiden pointers in the Spring of the 2021/22 season.

The five races will take place between February and May and be known as The Thoroughbred Breeders' Association Four-Year-Old Maiden Series. They will be held at Chaddesley Corbett (Worcestershire), Charm Park (Yorkshire), Edgcote (Oxfordshire), Garthorpe (Leicestershire) and Larkhill (Wiltshire).

Bryan Mayoh, the TBA's National Hunt committee chairman, says: "The TBA NH Committee has long believed that Jump horses will benefit from earlier development in pre-training, schooling and racing. To this end, it has proposed to the BHA a series of races for three- and four-year-old National Hunt-breds.

"This point-to-point initiative is intended to run in parallel with that series, so as to encourage British owners and point-to-point trainers to develop young horses earlier and race them in four-year-old races. Doing so will provide the same basis for development of Jump horses in Britain that is available to those in Ireland. Both initiatives are vital in improving the future prospects of horses raised in this country."

Warwickshire-based Charlie Poste, who with his wife Fran buys unbroken three-year-olds with the intention of racing them in point-to-points and then selling them as four-year-olds, says: "It's a brilliant initiative by the TBA, and is another example of the forward-thinking within the sport at present. The results are speaking for themselves, with former young British pointers like Ahoy Senor and Energumene winning top races under Rules. I'm delighted there will be races in the Spring for four-year-olds, and dipping a toe in the water with five races is the right approach at this stage."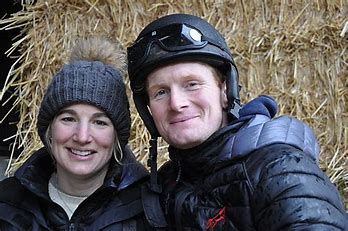 Oxfordshire trainer Alan Hill, says: "We will have several four-year-olds for next season and will be happy to aim at the TBA races to support the sponsorship. Ten years ago I didn't have a four-year-old in the yard, but our sport has changed and we must move forward. Hopefully in time the TBA's five-race series could become ten or 12 races."

Four-year-olds were readmitted to British point-to-pointing in 2006, but it has taken time to build up the number of such horses in order to create races exclusively for their age group. The TBA's new series gives point-to-point owners and trainers an opportunity to race such young horses against their own age group at level weights, to assess their merit earlier and potentially compete in, or sell them on for, Jump racing under Rules.

The first British race exclusively for four-year-old point-to-pointers took place in November 2020, however, the runners were about to become five-year-olds on New Year's Day. The TBA's series is aimed at younger four-year-olds.