Mulholland fights off a Cotswold clean sweep at Worcester
28-September-2021
28-September-2021 19:58
in General
by Peter McNeile
On a day that heralded more typical National Hunt racing conditions, Gloucestershire's finest excelled at Worcester's end of September fixture, although the performance of the day surely has to be awarded to Frau Georgia from Neil Mulholland's, who jumped the last fence blinded by her noseband which had slipped.
Whilst two races went the way of the in-form Wiltshire handler, there were winners apiece for Fergal O'Brien, Ben Pauling, Charlie Longsdon and Jonjo O'Neill.
The likeable O'Brien, winner with Coral of what should have perhaps been Mulholland's race with Frau Georgia, notched a second Worcester win with this 6 year old French-bred, this time having graduated to novice chases. The O'Brien bandwagon shows no sign of relenting its pace; that was winner number 52 in a scoresheet that now exceeds £350,000.
Despite a busy schedule, O'Brien and his partner Sally Randell found time to attend the memorial service of young Carly Tufnell 10 days ago. Younger brother Albi enjoyed some rides in the spring on mother Jane's hunter chaser, as part of a Covid-inflicted gap year at home. He heads to university this autumn, but expect to see him ride a few between the flags this next winter.
The equally likeable Jonjo O'Neill also has a string feeling good about itself presently. Four winners from nine runners in the past fortnight tells you they are raring to go, and Worcester's conditional riders' hurdle presented a further opportnity for Caoilin Quinn to impress. And so he did with a smoothly ridden race and a winner going away at the death.
Kielan Woods has been riding for Stow handler Graeme McPherson, but a recent leg up on to the fast-growing Ben Pauling operation, shortly to move to Naunton Downs alongside the golf club, meant that he got rhe better of a horse he would likely have been riding a few months earlier. Imperial Knight was pretty untroubled to beat the inferior Zulu Dawn in a bloodless 2m 7f novices hurdle as the rain belted down.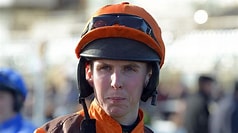 Not to be outdone, Charlie Longsdon's Jamacho kept enough up his sleeve to beat two time Stratford hurdle winner Percy's Word in the closing event. Jamacho has been running consistently but needed a trip overseas to win this summer when landing a hurdle race under Brian Hughes at Jersey's Les Landes in July. Longsdon's horses haven't peaked yet, nor would one expect them to; the quality within his yard is more focused on the winbter months generally.
Meantime, momentum is gathering toward a late October start for the Point-to-Point season. In the small world of Pointing, our chums in the West Mercian area have adopted a smart idea, being a season ticket for all 21 fixtures around the Severn Valley from Paxford and Woodford all the way to Eyton and Sandon. Such innovation deserves success, and we hope they get some support before the season begins. If you're interested, follow our own Buy Tickets navigation.