Bumper crowd enjoys Cocklebarrow winning performance from debutante Knowles
25-January-2022
25-January-2022 18:07
in General
by Peter McNeile
Organisers of Cocklebarrow Races – sponsored by Savills – on Sunday were rewarded for their enterprise in putting on a number of attractions alongside the racing with a huge crowd braving the cold, but thankfully dry, January weather. The eight races over fences – for which a total of 73 horses faced the starter on going officially described as Good, but which appeared to be on the fast side – were supported by three pony races, terrier and lurcher racing, a big shopping hall, a kids zone and a Tough Farmers challenge.
The feature race, the Charles Stanley Lord Ashton of Hyde's Cup Mens Open Race over three miles, six and a half furlongs, saw eight go to post and was won by nine-year-old Fifty Shades, who made the trip over the Severn from Nick Williams' Glamorgan base. Mid-division early, he took third place behind long-time leader Sumkindofking and Polydora down the back straight and challenged the leading pair between the last two fences before going away to score cosily by one-and-a-half lengths under a mature ride from 17-year-old Daniel Ellis. The other two couldn't be separated in a dead-heat for second.
"We got him from my brother Christian's rules yard to go pointing for Daniel," confirmed the winning trainer, "And they won three together last year. We've been aiming at this race for a while – he won over three miles five furlongs at Warwick so we knew he'd stay – and, while we were up against some good horses, we know he's still got plenty in him as he's relatively young. We haven't run him since Pyle in October because there's been nothing for him, but got him fit at home." Nick, who acts as assistant to his brother as well as training "four or five" pointers, confirmed that he has no plans for another comeback in the saddle, laughing, "I like my beer too much!"
The winning jockey told me afterwards, "I'm from Bridgend and my grandad trained pointers so I was born into the game. That's my fifth winner now and I'll hopefully turn conditional with Christian eventually, but we'll see how this season goes first – I've got three to ride, this horse, Killaro Boy and Sideways."
The Christian Fleming Architects Ladies Open was also run over an extended distance, this time of three miles four furlongs. Nine of the 15 entries took part and the race was won by the veteran Southfield Theatre. As is his habit, he jumped out in front and barely saw another horse all race. Hampered by a loose horse – the favourite Virak, who had fallen at the second open ditch – five out, the gallant 14-year-old was chased hard by Ange Des Malberaux, but found an extra gear as he so often does and won by a comfortable four lengths in the hands of Lily Bradstock. Robin Des People was a never dangerous 18-lengths third.
"He's an old star and never lets you down," smiled trainer Sara Bradstock. "We were going to go to Larkhill yesterday, but that race looked deep, so I thought we'd come here. He's 14 now, he's got a fused back and he's totally mad, but he loves racing – he wouldn't do anything else, so he'll keep going as long as he's still enjoying it. He loves this ground – we wouldn't run him on soft and we'll probably stick to pointing for now, as while he'll carry a triple penalty, it'll get easier after Cheltenham. We may look for a late season Hunter Chase on fast ground."
"He's just the best," confirmed Lily. "I'll never ride another like him – I've won 11 on him now and that's the 20th win of his career. I also rode his half-sister Southfield Lily to win at Badbury Rings and I've been getting Myth Buster ready before his owner Susan Oakes takes the mount, but I'd like some more outside rides."
Three young female riders notched up their first success in the saddle and one – 18-year-old Grace Knowles – did so on her first ever ride, which saw her win the Dubarry Outstanding Performance Award and receive a £500 voucher to spend with the sponsors. She took the 14-runner Kings Head Novice Riders Race on Stacks Mountain and belied her inexperience with a patient ride. Mid-division early, she went second going out on the final circuit then took the lead three out and came home four-and-a-half lengths clear of the always-prominent Ellipsism. Hot favourite Old Guard was one-and-a-quarter lengths away in third but never got in a blow.
A sizeable entourage of family and friends cheered the winning combination into the enclosure as Sally Randell – representing winning owner-trainer Fergal O'Brien – explained how they came to buy the nine-year-old. "We bought him from Henry de Bromhead in August," said Sally. "Grace – who bought her first racing pony three or four years ago and has been riding out for us ever since – is with us full-time for a year before she goes to university and Henry said he'd be the perfect ride for a novice. He travels well and jumps economically but is foot perfect. To be honest, we were just hoping to get round, but Grace was mega!"
"I'm 18 and am going to university later this year to study physiotherapy," confirmed a beaming Grace. "I raced ponies but didn't come close to winning and can't thank Fergal and Sally enough for giving me the ride on Stacks Mountain. I hope I can keep riding him in Novices races and maybe get a few outside rides this season."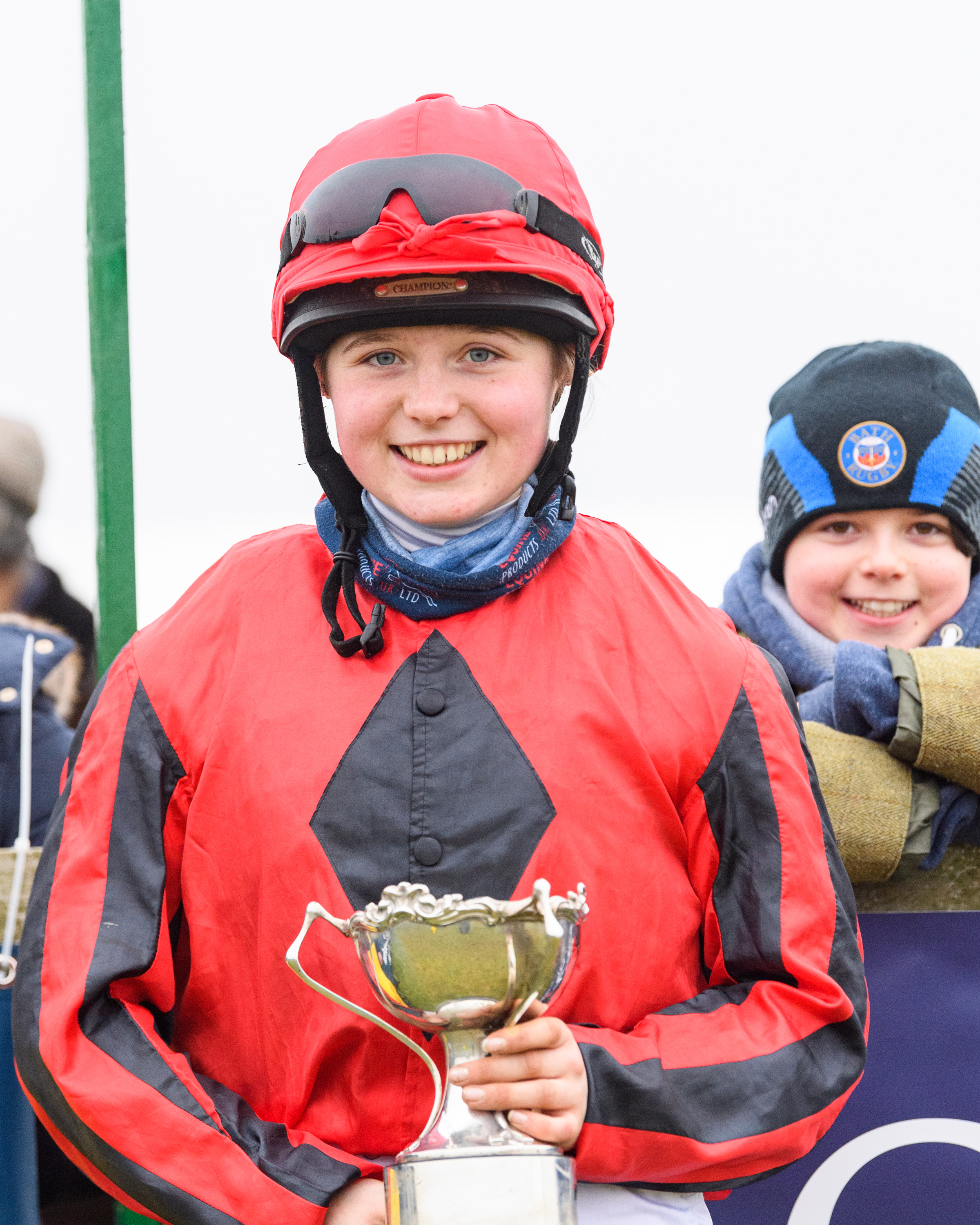 The first of the three youngsters to ride their first winner was 22-year-old. Megan Fox – no relation to the Hollywood actress, but grand-daughter of trainer Jimmy and daughter of former jump jockey
Sean. She took the opener – the five-runner Knight Frank Heythrop Hunt Members Race – on Raven's Tower, another professionally-trained winner, this time by Ben Pauling. The twelve-year-old went into the lead passing the finishing post with a circuit to go, quickened a few lengths clear before the final ditch and always had enough in reserve to repel the persistent challenge of favourite Lord Scoundrel, winning by three-and-a-half lengths. 2020 winner Pomme De Nuit was a very distant third.
"We've had him a long-time," Ben said of Raven's Tower. "He was the first horse I bought – for just £2,000 – and was very good when he was younger, but lost his way. The plan is to stay pointing with him and give Megan some rides and we'll see how we go before looking for a better races. That must be the best spin of Megan's life – we were worried about the trip, but she gave him a peach of a ride."
Megan told me, "I used to work for Andrew Balding and joined Ben just over two years ago. My Dad didn't want me to become a jockey but eventually gave in! I've had three rides on the flat, two over jumps – which I prefer – and that's only my second ride in points, and the first for nearly two years. What's my ambition? To ride a winner, and I've just done it!"
Precious Bounty was another winner greeted by a rousing reception as Ellie Caldwood, 18, brought him back after breaking her duck and defeating nine rivals in the first division of the Wurzel High Speed Broadband Maiden for older horses. Always prominent along with eventual second and third Francesco Du Clos and Shamilan, Ellie first took the lead on the eight-year-old six out, then again at the penultimate fence, coming home by four lengths and one-and-a-quarter.
Owner – and proud mother – Jo Callwood, from Knutsford in Cheshire, explained how the Ellis connection came about. "Ellie's mostly done showing, but always wanted a go at race-riding. She went to Dan Skelton's for work experience and got in touch with Tom via Dan. Tom found us Wounded Warrior – who was magical for Ellie and really looked after her – first, then got Precious Bounty from Ireland last summer. Ellie lived in a loosebox last season, but is now working for G&T Racing full-time!"
Ellie herself was on cloud nine, confirming, "That was just my ninth ride. As Mum said, we're not a racing family, but I love going fast! Tom's found me two horses now and I'm living the dream – (Tom's wife) Gina Andrews is my complete idol and I just want to go as far as I can, with more clear rounds and more winners." The trainer was complimentary about his young jockey, saying, "I'mreally pleased for Ellie. She works very hard, is a massive part of the team and does a lot with our young horses. And it's great for the sport that three female riders have had their first winner today – there aren't enough young jockeys coming through and I remember how hard it was when I was starting out."
For all the youngsters' success, it was a more experienced hand who took the riding honours on the day – champion jockey James King recording a double, both on ex-Olly Murphy horses making their first start between the flags. He initiated his double on Drumlee Getaway for Francesca and Charlie Poste's Station Yard Racing operation in the Spratt Endicott Restricted Race, in which ten ran. The seven-year-old mare made gradual progress to lead four out, going clear two fences later and scoring by 11 lengths – the widest margin of the day – from fellow joint-favourite Goldenbrave. A Book Of Intrigue was a fast-finishing two-and-a-half lengths back in third after being left almost 20 lengths last in a ragged start.
"She was disappointing under rules after winning a point in Ireland," admitted Charlie, "But James advised us to buy her and she couldn't have been more impressive today – she travelled super and her jumping was electric. She's for sale to stay in the yard and is one of a team of progressive horses that we've got for James, Alice Stevens and our novice rider Amber Jackson-Fennell to ride." It was Station Yard's fifth winner of the season – and third this month – and Charlie said, "We're starting to get into gear now and have between 20 and 25 to run."
As for the jockey, James told me, "She's only a small filly but I knew she'd jump and stay and thought she'd appreciate the better ground and benefit from a tongue-strap." Pressed to nominate a young horse to watch from the yard, he gave me, "Boy De la Vis. He was beaten at Sheriff Hutton but he'll win on a speedier track – he's a nice horse."
James completed his double in the second division of the older horse maiden, which had 11 runners, on Whatya On About, owned and trained by Anabel Murphy, mother of trainer Olly. Given a confident and patient ride, the seven-year-old challenged leader Go Geronimo three out and – despite a mistake at the next – led again at the final fence and came home two-and-a-half lengths clear. The runner-up has now finished second six times (and third twice) from eight starts and deserves to find a race. Long-time leader Frisson Collonges was 30 lengths third.
In the absence of the winning owner-trainer, connections were represented by Olly's partner Camilla Cotton, who laughed, "He ran under rules and wasn't very successful, so we sent him pointing. That's all there is to say really! James gave him a good ride." Asked about the chances of retaining his championship, James was coy. "I'm not sure, to be honest. That's nine for the season now and I'm in fourth place at the moment, so I'm keeping my powder dry!"
Eight lined up for the Carter Jonas Maiden for four, five and six-year-olds over two-and-a-half miles, run at a furious pace and won by Caballo Diablo, who led virtually all the way for Alice Stevens. Briefly headed by runner-up Doctor Tom four out, he regained the advantage two fences later and finished three lengths clear, with Victory Club a further 23 lengths behind in third.
Successful trainer Jonathan Barlow, who trains five pointers at Cropwell Bishop (famous for its stilton) in Nottinghamshire, said afterwards, "We bought him from Colin Bowe, via Neil O'Donnell. He'd been placed twice on better ground in Ireland and we thought he'd appreciate a shorter trip and today's going – it's Good, but tacky. We ran him at Sheriff Hutton last week, but he was baulked at the third – two horses came down at the first, got in front of him, then stopped, so he couldn't do anything! We decided to run him again because there aren't many two-and-a-half mile Maidens for him at the moment." Jonathan – who trains his horses from his farm, hunts them regularly and has no gallops of his own – was keen to give credit to owners John and Celia Wallwin, saying, "They've had two pointers with me for the past two seasons. I'm really pleased for them as it's been a while since their last winner."
Alice – who came by the ride through her connection with the trainer's neighbour Kelly Morgan – advised why she set such a fast pace. "His race last week lit him up, and every time I took a pull, his mouth went up! But he got a bit lonely in front, so I gave him a breather." It was her sixth winner of the pointing campaign – to add to two under rules – and she is looking forward to riding horses of the quality of Aintree Foxhunters hope Red Indian. "It's nice to be riding winners for the likes of Kelly Morgan and Robert Waley-Cohen," she confirmed. "I've already beaten last season's total, so I'd like to pass my best – nine the year I won the Novice Riders title – and to have more success for Henry Daly."
The pony races, sponsored by Warwick Racecourse and GX Landrovers, were won by Lucas Murphy on Wee Anthony, Eliza McPherson on Little Galway Girl and Harry Vigors – sporting the colours carried to Gold Cup glory by Bobs Worth, who sadly died last week – on Obi 1 Knobi.