Cocklebarrow or Kentucky? Some things you didn't know about the American Jumps scene
24-August-2020
24-August-2020 9:08
in General
by Admin
Cocklebarrow doesn't have much in common with Churchill Downs, Louisiana, which stages the Kentucky Derby next month, deferred since May as a result of the Coronavirus, other than the obvious. But just as with Cocklebarrow's large fields, which encourage strong betting heats, betting on the Kentucky Derby is awesomely large. The $165.5m wagered on the race last year knocks our own Derby into a cocked hat.
There is a thriving US Jump racing scene however, clustered around the Eastern seaboard states and the Southern states. And this has a great deal more in common with events like Cocklebarrow. In fact, you might say the events are modelled on the quintessential British Point-to-Point. Huge crowds attend the races, and pitches to park your vehicle against the rails for the mother of all picnics can cost several thousand dollars.
The standard of racing is high, supporting splendidly American prize funds that most of our professional racecourses can only hope to achieve. Why though do we now see more of the Yanks over here?
The very best US steeplechasers compete at the highest level wherever they run. But ground conditions in the US are very different to here; where our trainers consider a Good ground description borderline for racing, US trainers would consider this bottomless! The sport therefore attracts lightly-framed horses with a high action rather than the old-fashioned chaser type. Several bloodstock agents in the UK have made a mark in the US with successful juveniles from over here.
Here though, are a few other things you might not know about US steeplechasing:
British Successes
The most famous British success "over there" came from British hurdler Morley Street, trained by Toby Balding for Michael Jackson. Winner of the Champion Hurdle by 1 1/2l from Nomadic Way in 1991, he proved his versatility on differing ground the following autumn by following up a short head defeat in the Doncaster Cup with a 10l victory in the Breeders Cup Chase at Fair Hill, West Virginia. That same globe-trotting season, Morley Street was beaten a short head again in the Irish Champion Hurdle at Leopardstown in February, before getting his head in front in the Grade I Aintree Hurdle, which he won again in 1993.
More recently, Jury Duty was sent over by Gordon Elliott for the Grand National Hurdle at Fair Hill in 2018. Ridden by Robbie Power, he was sent to the front 2 out and stayed on strongly from another Irish contender, Tornado Watch to win 3 1/4l. The US Grand National was a happy hunting ground again for Europeans in 2019, when Nicky Henderson sent over Brain Power to win the race comfortably under Nico de Boinville. The winner picked up a cool £212,000.
American winners over here
In a country where the best known steeplechase, if not necessarily the most valuable, is the Maryland Hunt Cup, over solid timber rails, you'd expect the Americans to be thrilled about a race as demanding in stamina and courage as the Grand National.
Jay Trump's victory in 1965 was the first success by an American-owned and trained horse in the race. And unlike the current trend to hire locasl talent, Jay Trump was ridden by US jockey Tommy Smith; the pair also teamed up to win 3 Maryland Hunt Cups in 1963, '64 and '66. For good measure, Jay Trump's European sortie concluded with a third in the Grand Steeplechase de Paris at Auteuil. You can guess from these exploits that Jay Trump jumped for fun.
Ben Nevis continued the American theme in 1980, winning by 20l under amateur Charlie Fenwick. Ben Nevis was a British-bred, but exported to the USA, where he found his niche, winning 8 races including the Maryland Hunt Cup before tilting at the Grand National in '79, where he fell at the Chair, and the following year.
In 1987, Englishman Jonathan Sheppard (pictured below left) sent over Flatterer for the Champion Hurdle, looked after by none other than current Redditch trainer Ian Williams. Sent off at 10/1, Flatterer ran a good second to See You Then, winning the second of his three consecutive Champion Hurdles.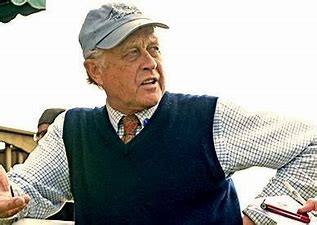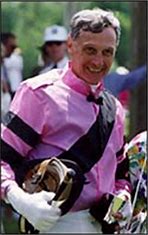 In 1989, Anglophile George Sloan (above right), an owner with Nicky Henderson, instigated a new transatlantic hurdle series with an enticing $1m jackpot. The Mercury Communications Sport of Kings Hurdle Series, sponsored by a leading in mobile phone technology, just coming to hand in the UK, comprised 5 races, includingh 2 in the USA in early autumn, and legs at Cheltenham in December, Chepstow over Christmas and Leopardstown. A winner of a leg on either side of the pond could win $50,000, a winner of all 5 legs $1m. Morley Street won the Cheltenham leg, setting upa trip to the Breeders Cup the following year. But whilst in the first year, the yanks sent over 5 contenders, the soft ground found them out.
It wasn't until Bruce Miller sent over Lonseome Glory in 1992 that an American horse got his head in front. Ridden by daughter Blythe, Lonesome Glory beat 3 other contenders a head to win the transatlantic bonus and a tilt at the Breeders Cup Chase the following spring at Belmont, which he won from another British import, Highland Bud.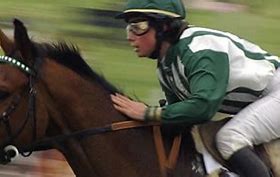 British & Irish riders over there
British and Irish riders are frequent visitors to the top races in the US calendar, in part since it coincides with the British summer. Adrian Heskin, champion Brian Hughes, Jack Kennedy, Danny Mullins and Robbie Power have all ridden in the USA.
Last year the Temple Gwathmey Steeplechase Foundation sent 4 riders over to Ireland to improve their riding skills but generally the market for riders over here is too competitive for American riders to get a look-in.
The current American champion is Jack Doyle, whose 95 rides resulted in 20 winners amassing $597,500 but the sport has also crowned 2 female champions in Blythe Miller and Danielle Hodgson.
American Steeplechase fences
The typical US steeplechase fence is more akin to a British All-Weather hurdle, and not far from some of the more modestly-sized Point-to-Point fences. There are also timber races, with railed upright fences, the most famous of which is the Maryland Hunt Cup, which remains an amateur riders race.
The obstacles used in most races are known as National Fences. They are portable obstacles that are used in steeplechase races up and down the East Coast, where most steeplechase races are held. The man-made fence consists of a steel frame stuffed with plastic "brush," and it has a foam-rubber roll, covered with green canvas, on the takeoff side. Horses jump the fence in stride, much like human hurdlers in track and field events. The jumps are shipped to racetracks by truck and are set up on turf courses in advance of the races.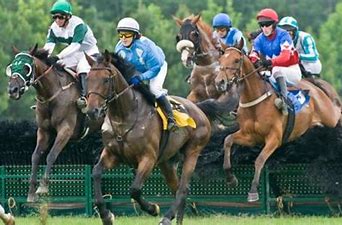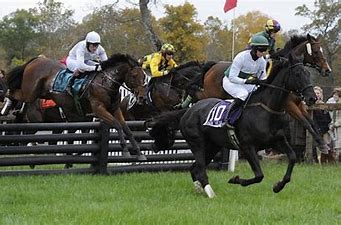 The Season
This year's season started later than normal due to Coronavirus, commencing in June, and continues to November. The best known races - the Virginia Gold Cup in June, Far Hills and the International Gold Cup in October are marquee events. Interspersed with these are fixtures from Charleston to Saratoga, all with a unique style of their own.