There's no stopping our trainers 3 days short of the season end
22-April-2021
22-April-2021 18:11
in General
by Peter McNeile
In a thoroughly grim week for Jump racing following Lorna Brooke's death, our trainers in Gloucestershire have been busy at opposite ends of the country illustrating why this county leads the way in domestic Jump racing.
The Perth Festival is a grand title for a usually merry occasion largely devised by the late Sam Morshead, who became Clerk of the Course at Perth in 1988 and General Manager in 1994, during which time his boyish charm persuaded all the top trainers to holiday post Cheltenham in Perthshire. The Morshead welcome was never declined, since when this three days has seen terrific growth and become a showcase for the best of Scottish Jump racing.
Jump racing in Scotland is more than holding its own presently, witnessed by the full stables of Lucinda Russell, Sandy Thomson and Nick Alexander to name but a few. Retaining the Scottish National on home turf was a great scalp for the home team last weekend.
Today, however, they had to give way to a few Sassenachs, among them our own Richard Hobson, whose 6 year old French-bred Fanzio, assisted by Brian Hughes, took control of his handicap chase four out, and asserted himslef in good style. Richard has enjoyed a consistent season - this his 12th winner - highlighted by Lord de Mesnil's capture of the Haydock Grand National Trial in January.
Further south, the dreadfully-named Ratfacemcdougal has beena terrific servant to Graeme McPherson's yard at Stow, racking up a hattrick in the handicap hurdle at Warwick this afternoon. He must be a robust type as this was his third run in six weeks, and tenth since September, of which he's won five. Graeme's pretty versatile himself, practising as a barrister after first lot has finished. Oh for a stable full of the likes of him!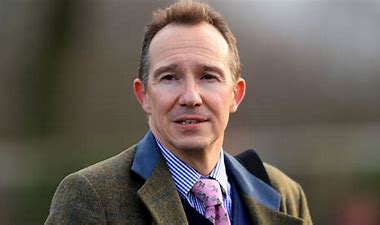 Bourton-based Ben Pauling was another to add to his score with three dasy to the finish of the season when another oddly-named horse, Unai, won the novices handicap chase. This lesser light of the Iasaac Suede and Simon Munir stable has been running consistently all season so getting his head in front was well overdue.
No week would be complete without the continuing flow of winners from the Twiston-Davies machine at Naunton, and today's 5l effort by Larch Hill in the 0-110 handicap chase illustrated there's plenty of life in the old dog yet. This understated yard is rather modest about its success, yet it's a bellweather of the top end of the Trainers' Championship year after year.
Meanwhile, across the county border, 97 runners lined up for the Edgcote Point-to-Point meeting on Sunday last, but perhaps the most notable winner was Fern O'Brien, daughter of first time centurion trainer Fergal, who won the 148cm pony race.
Start as you mean to go on, girl.