Will we have a French winner of the National?
22-February-2021
22-February-2021 9:56
in General
by Admin
There's no-one in racing that doesn't enjoy a giantslayer story. Small stable sees off big-spending monster yard to win massive prize; you know the sort of thing. Yet time and again, the pricing of horses in races shows that followers of the sport tend to fall in line behind the big names despite excellent form from smaller lesser known trainers.
Saturday's racing was a day for the giantslayers.
Eastward at Ascot, Jeremy Scott's small Devon yard saw off Cyrname with the game and brave Dashel Drasher and the screams of his accompanying stable staff could be heard echoing around the empty grandstand.
But up at Haydock, an equally improbable story was eking out. In seasonally heavy ground, the Grand National Trial is always a test of stamina, rather like running a less than ideally small training enterprise. But no-one had told the script to Lord du Mesnil, trained above Bourton-on-the-Water by former jockey Richard Hobson. The 8 year old French-bred made virtually all the running, and despite mistakes five and four out, kept on gamely to see off the challenge from Achille, beautifully ridden by Charlie Deutsch, and trained by deep ground specialist Venetia Williams.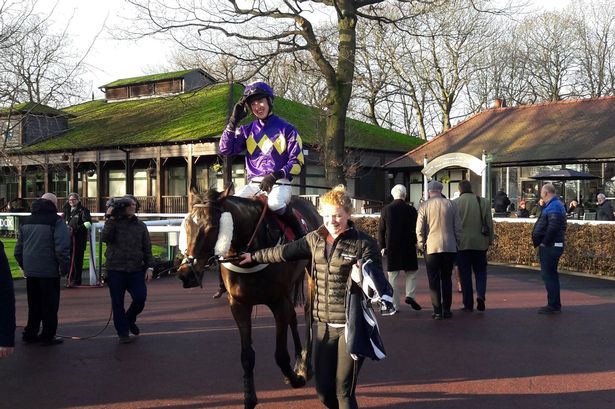 Richard Hobson has built a business seeking out good quality bloodstock in France. Whilst he keeps to train some, plenty of others go elsewhere, like Hurricane Fly. But in Lord du Mesnil, alongside another eight winners this term, he's found a winning formula. Lord du Mesnil is unlikely to find this sort of ground at Aintree, but off 10st 6lb he's assured of a run at least. No matter. This race alone was a very satisfactory result in itself and the trial descriptor does it no justice.
The weekend saw our two other leading lights in this neck of the woods keeping their end up. The winner machine that is Ravenswell Farm saw Alphaphilippe win the Grade II Albert Bartlett Prestige Hurdle comfortably, a perfect prep for the race of the same name on Gold Cup day, whilst Polish won a handicap hurdle at Newbury yesterday to maintain the yard's 19% strike rate.
Up the road, and not to be done down, Ajero's victory in the Mares race was his 46th winner of the season. At £495k in prize money, he is just under £100k below Fergal O'Brien in the Trainers' list - roughly the value of a Festival victory. Who has the stronger hand, I wonder?