Here come the girls!
23-September-2020
23-September-2020 20:00
in General
by Admin
Saturday's winner in the Conditional Jockeys' Handicap Hurdle at Newton Abbot by Stow trainer Graeme McPherson won't rank among the most remembered victories of a season bursting into life, with autumn here, but it reinforces two things.
First, the lawyer turned trainer is making a mark on the scene, this being his seventh winner of the present campaign, with an impressive 36% strike rate at Newton Abbot.
Second is the emergence of yet another girl among the jockeys' ranks in Lily Pinchin riding her first winner of the new term. She's one of several emerging riders that look set to grow their presence in the jockeys' rankings.
There's much talk on the Flat of Holly Doyle being best placed to become a champion rider, the nearest any girl has reached in pursuit of the top of the sport since Hayley Turner. Yet in reality, it is over the sticks that female riders have been able to grow any sort of presence in numbers. Half the riders in the Point-to-Point field are now girls, meaning the ranks of junior riders are just as likely to furnish us with a Champion Jockey as the menfolk.
Here are five riders you should look out for under Rules or Pointing over the next few months:
Bridget Andrews
Bridget's 27 years have yielded 116 winners to date since the 2010-11 season, when she graduated from the Point-to-Point scene as champion, having ridden her first winner between the flags in 2010.
She turned Conditional in 2015 on an offer from Dan Skelton whose younger brother Harry is her partner and stable jockey. Bridget comes from a family which lives and breathes racing; father Simon won the Aintree Foxhunters in 1988 on Newnham, sister Gina is top of the tree in the Point-to-Point world, and brother Jack heading that way too.
Unlike the other riders in this piece, Bridget's winners are almost exclusively for Dan Skelton; it's a trait repeated by Harry, who rides very little for other yards. That said, there's more than enough firepower at Skelton's Alcester yard to keep them both busy.
An obvious highlight would be Bridget's winner in the County Hurdle of 2018 on Mohaayed for the Skelton team - a first Festival winner.
Page Fuller
Page is another rider from a family with a long history of racing. Father Richard is MFH of the Vine & Craven and responsible for their two (now one with the closure of Hackwood Park) Point-to-Point fixtures. On the back of 2 consecutive Amateur championships, Page turned professional in June 2018.
Her 71 winners to date, including one at Fontwell earlier this month to get her off the mark for the season, make her near losing her claim, but she's spent her time wisely as a Conditional, riding for over 30 trainers this past 2-3 seasons, building up a support base. Zoe Davison (8 winners from 64 rides) and employer Jamie Snowden (11 from 57) have been the staunchest supporters, but others like Seamus Mullins, Harry Whittington and Chris Down have all played their part, even if the winners have been less plentiful for them.
Riding at 9-11, her forays on the Flat have been limited.
Gina Andrews
Sister of Bridget, Gina needs little introduction to Pointing fans, given she has won the Lady Riders Championship no less than seven times. She is a prolific winner between the flags and under Rules in this country and Ireland, with over 300 winners to her credit.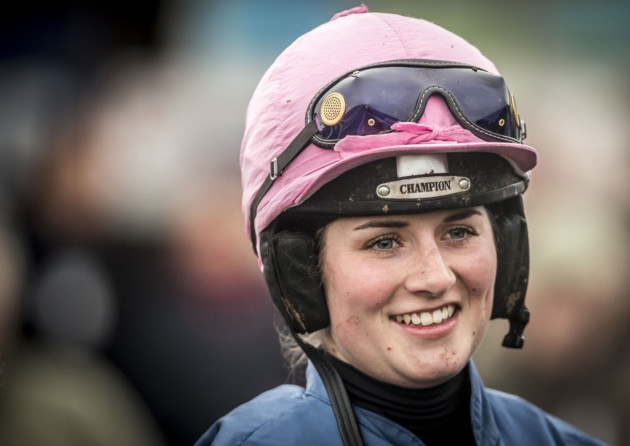 Working with husband Tom Ellis training Pointers and pre-trainers from their Warwickshire home, Gina is a professional rider in all but name, and beat the record for the most winners in a season by a woman in 2019, with 41.
A big highlight was winning the Fulke Walwyn Kim Muir at the 2017 Festival on Domesday Book. She looks set to dominate the sport's amateur ranks for a little while yet.
Lily Pinchin
Lily Pinchin is still an amateur rider, and well known to those on the Point-to-Point circuit in the West Midlands. Based at Fergal O'Brien's Ravenswell Farm near Withington, she broke her duck for the season at Newton Abbot in a race for Conditionals and Amateurs on Saturday.
Six winners under Rules from 45 rides last season showed a pleasant steady improvement, whilst winners between the flags flow more frequently, showing that Lily is no slouch in the plate.
Although predominantly used by Fergal and Graeme McPherson, plenty of other Gloucestershire trainers have put her up: Martin Keighley, Ben Pauling, Charlie Longsdon to name but a few, and her talent has been picked up by over 30 other trainers across the neighbouring counties. She's also ridden at all bar 6 of the UK's racecourses.
Tabitha Worsely
It would be unfair to say Tabitha rose to prominence after winning the 2019 Aintree Foxhunters; she was, already by then, a very accomplished rider, with 18 winners from nearly 300 rides under Rules alone these past 5 years. Well supported by Robin Dickin, Laura Horsfall and Georgie Howell, she's been finessing her place amomg the Conditional ranks aftewr a hideous fall at Ludlow in November 2017 that broke vertebrae in her back. Six months on she fought her way back into the saddle and to winning ways. The 25 year old has time enough to grow her tally in this ultra competitive game.
At a time when racing is looking to be more inclusive, the volume of women riders is very encouraging, putting the lie to the old maxim that it needs a man's strength to drive a horse home in a finish. An older generation would have choked on their whisky to see the current situation, but it won't be long before ladies cjhanging rooms will be as large as the Mens.
Girl power appears alive and kicking in Jump racing.