Fran and Charlie Poste are a team on the move
18-June-2022
18-June-2022 23:00
in General
by Peter McNeile
The conclusion of the Pointing season leaves as many questions as answers in this first season after the pandemic.However, there is room for optimism about the sport in the West and South Midlands, which now rivals the South West as the heartbeat of the sport.
A dwindling number of horses chasing winners at too many fixtures has left many Spring fixture secretaries scratching their heads as to the viability of their fixture. Early Spring weather combined with superb weather over the crucial Easter period brought out huge crowds glad to be able to endorse their usual Easter outing to the races. However, a low total number of hunter certificates issued, at around 1,300, meant that field sizes were modest for the most part, and pickings easy for the professional cadre of trainers farming races weekend after weekend.
The ever-creative Peter Wright of the governing body, the PPA, will doubtless be turning his attention to this over the summer with a combination of initiatives to stimulate ownership, more manipulation of the fixture list and managing the number of races per fixture downward in line with horse numbers.
One anomaly does stand out however. Over 100 hunter chases take place on racecourses proper, leeching runners that would otherwise fill open races at Point-to-Points. In the past, we have protected these races in support of racecourses, but there would be few who would disagree - including most racecourse executives - that there are too many. With the exception of the three Foxhunter races and the hunters - only fixtures at Cheltenham and Stratford, the average field size was 4 , little better than between the flags. We should look after our own and encourage racecourses to reduce their exposure to the hunters' audience. But as always, racing is full of competing factions; a reduction in the number of horse racing cards and odds seems improbable, whatever the content of those races.
In our own area, three of the top 4 positions in the Trainers' Championship went to home grown talent.
Tom Ellis has dominated the trainers' ranks for some years, and his tally of 62 is both a personal best and a new record, surpassing Jack Barber's 51 in 2014/15. Ellis enjoyed 30 individual winners among 156 runs, including the highlight of Latenightpass winning the Aintree Foxhunter under champion lady rider Gina Andrews. Precious Bounty won no less than 5 races toward that total.
Alan Hill continues to be consistent at a very high level, this season bringing in 39 winners.
However, the most interesting candidate in recent years is Fran Poste, training and breaking with former jockey husband Charlie at Ettington near Stratford. Station Yard Racing has enjoyed steady growth in the young horse market that is their speciality, this season winning 25 races from 115 runners.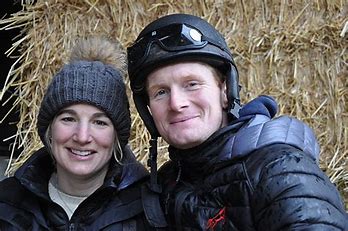 The Poste statistics bear some further analysis since they started the business 10 years ago as this table shows where the first column reflects the winners, the second the volume of runners:
| | | |
| --- | --- | --- |
| 2012/13 | 1 | 3 |
| 2013/14 | 4 | 31 |
| 2014/15 | 4 | 33 |
| 2015/16 | 9 | 62 |
| 2016/17 | 13 | 69 |
| 2017/18 | 21 | 80 |
| 2018/19 | 20 | 74 |
| 2019/20* | 8 | 40 |
| 2020/21 | 21 | 80 |
| 2021/22 | 25 | 115 |
* Covid pandemic foreshortened season by mid-March.
This then is a business in growth mode. And alongside their Pointing exploits, they have been producing youngsters for the professional game. Third Time Lucki, a candidate currently with Dan Skelton and already a Graded winner, is a product of the Poste school of equitation.