Gloucestershire trainers lead the way in Warwick's Kingmaker Chase
17-August-2020
17-August-2020 17:59
in General
by Admin
Young chasers are spoilt for choice in venues to launch their careers around the Three Counties. Each of the licensed racecourses has a programme of Maiden or Novice chases to cater for every quality of horse, whilst at Point-to-Point level, our own Lord Ashton of Hyde Open has produced some top performers of its own over the past few seasons.
The traditions of National Hunt racing were founded around use of the Handicap, rather than Conditions races. Until around 30 years ago, race planners eschewed the French model of Weight for Age Conditions races in favour of major handicaps which have become big betting heats. Races like the Grand Annual and Coral Cup, not to mention the Grand National, draw as much interest among spectators as the Supreme Novices or JCB Triumph Hurdle, on the back of intense punter interest.
Yet travel to any of the courses in the vicinity and you are sure to find a Novice Chase where a star was launched, and one course in particular punches above its weight with the quality of Novices. It's no coincidence therefore, that Warwick was awarded the Grade II Kingmaker Chase as part of a remodelling of the National Hunt Pattern back in 1990.
At that juncture, for each distance and age group, the Pattern was designed with 2 Grade II races leading to a Christmas Grade I, 2 further before the Festival or Aintree, and a consolation Grade II afterwards. This gave aspiring contenders the chance to graduate from ordinary novice events to a higher class with greater prize money.
The Kingmaker was established at a course which had established a solid reputation for producing Novices of the future, and after its move from a May date to February, that trend accelerated.
For the non-historians, the title Kingmaker refers of course to Richard Neville, 16th Earl of Warwick, who was highly influential in the politics of the mid C15th. Initially as a Lancastrian, he switched sides to depose Henry VI and place Edward IV on the throne of England in the War of the Roses. However, after being unable to manipulate Edward, he deposed him too to replace Henry once again in 1471. He is a central figure to a fascinating time in English history, and integral to the successful development of Warwick around its castle.
The Race
The Kingmaker is run over the minimum trip of 2 miles (having started at 2m5f), and 12 fences. In keeping with the current trend to save Pattern events where the original date has been lost to the weather, the race has been staged at Wincanton's Kingwell meeting three times, and at Sandown too latterly in 2019 due to the equine flu outbreak. In fact, the original Pattern race move was a Warwick initiative, when the Grade II Victor Chandler Chase (now Clarence House) was abandoned at a waterlogged Ascot and despatched to bolster a valuable card at Warwick on Channel 4 for the first time in 20+ years. It was the scene for series of rousing finishes through the intense rivalry between champion rider Richard Dunwoody and contender Adrian Maguire in their championship battle that year.
Warwick's back straight is an excellent test of the chaser, with four fences coming in quick succession before the turn into the straight. The Kingmaker's timing in mid February makes it a perfect prep race for the Arkle on the opening day of the Festival, although its prize money makes it a very respectable scalp in its own right, and of course, it's a track steeped in history. The National Hunt Chase, foundation stone to the Festival, was held here on numerous occasions.
Masters of the Kingmaker
The earliest top flight winner was Arctic Kinsman, trained by Nigel Twiston-Davies, and ridden by Carl Llewellyn. Arctic Kinsman was a previous winner of the Supreme Novices the previous season, but found one better in the Arkle a month later in Ventana Canyon, trained in Ireland by Edward O'Grady. Compensation was to be found at Aintree in a valuable Novices Handicap. Sadly thereafter in 3 further seasons, he never found himself in front again.
The Naunton trainer struck again in 2017 with Flying Angel under the guidance of Willy Twiston-Davies before he switched to the Flat. Flying Angel won convincingly that day, was badley hampered in the 2m5f JLT Novices at the Festival but finished his Novice season picking up the Grad e I Manifesto Novices over 2m5f at Aintree. He hasn't found that winning feeling again until November at Ascot and should add again to his record before his career is over.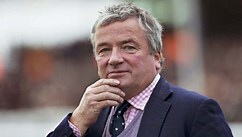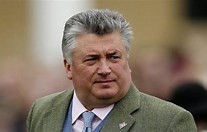 Former Gloucestershire man Alan King learnt the merits of teaching Novices at Warwick from his mentor the Duke, David Nicholson, at Jackdaws Castle. Nicholson always sent Novices to Warwick, and whilst the Kingmaker was created toward the end of his career, hw won it once with Mulligan in 1995, before the trend was continued by Alan, with winners in 2005 with Kadount, 2006 with Voy Pur Ustedes and 2014 with Balder Succes.
Best known among these is of course Voy Per Ustedes, winner of 14 of his 37 races, including an Arkle, 2 Desert Orchid Chases, a Queen Mother Champion Chase, and two consecutive runnings of Aintree's Grade I Melling Chase, incluing the scalp of Master Minded.
Former champion trainer Paul Nicholls has unsurprisingly been proficient in the race too with 5 winners. The first 4 were virtually back-to-back, with Lake Kariba and Flagship Uberalles in 1998 and 1999, followed by Whitenzo and Armaturk in 2001 and 2002, then Vibrato Valtat in 2014. Lake Kariba won the following season's Haldon Gold Cup before transfering to Venetia Williams; Flagship Uberalles was a proficient winner, notching the Arkle and Maghull at Aintree that same season, and following up in the Haldon Gold Cup, Tingle Creek, and Game Spirit before a switch of stable. He won another Tingle Creek and a Queen Mother Champion Chase in 2002.
Whitenzo's finest hour might arguably have been the Kingmaker; he finished his career pot hunting, albeit at the highest level with the Royal Artillery Gold Cup; Armaturk competed gamely off a high mark of 155+ in the country's biggest handicaps, whilst Vibrato Valtat won a Haldon Gold Cup but had the misfortune to be of the same generation as Sprinter Sacre, Sire de Grugy and Un des Sceaux.
What is remarkable however, and especialy over the past 20 years, is the volume of French bred horses to have won; it's testament to the precocious nature of French chasers that they are successfully usurping British and Irish bred horses in the UK's top graded races, beacuse they come to hand sooner. Four Year Old steeplechases are regularly run on the continent, which augurs well for Chaddesley's 4yo maiden race this autumn.
Success at Cheltenham can help propel a trainer to another level of his or her career, with the Festival propelling news from the sport into the mainstream. Of the three principal Foxhunter Chases, it's still the Cheltenham version that is most coveted among the amateur brigade. Prep races like the Kingmaker give solid clues as to the capability of contenders for the Arkle a month later, as well as providing top class sport at venues outside Gloucestershire.