Half ton Fergal is Racing's Duracell bunny
09-September-2021
09-September-2021 18:22
in General
by Peter McNeile
Watching the success of Fergal O'Brien, who notched his fiftieth winner of the term at Uttoxeter on Thursday, I was reminded of another pioneer of the sport in Martin Pipe, who would regularly close out a half century of winners before most of his contemporaries had barely got their charges to steady cantering! The half century is a credit to a trainer who is one of life's happy-go-lucky personalities.
And small wonder he is all smiles. Look at the progress the O'Brien bandwagon has made. Four seasons ago, he reached a total of 49 winners across the entire season. The 50 was secured in January in the 2019-20 season, in November last season. That in itself was a triumph given that racing did not return until July 1. The switch to Ravenswell Farm has given a fresh impetus, to the extent that all around the Cotswolds, it's easy to stumble into an acquaintance who "has a share in a horse at Fergal's".
It's a wonder the yard isn't sponsored by a baker given the volume of cake they must get through of a weekend.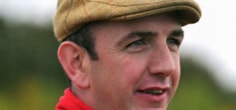 The winning run has maintained O'Brien's lead at the head of the Jump Trainers' Championship with a prize money haul of £316,339, and whilst that might get hauled in once the big guns start firing, it's a sure advertisement for the alternatives to big money racing and Saturday horses.
Another Gloucestershire success who knows a thing or two about Saturday horses is Tom George, also successful at Uttoxeter this week with his 12th winner of the term, when Rock on Rocco won a match in a Novices' Handicap Chase to conclude the card. Not best known for his summer horses, Tom is a traditionalist at heart, but also an innovator, as any visitor to the yard will testify. The farm at large is powered by a biomass boiler that heats the main house, lads' accommodation, drying room and provides endless hot water. The Down Farm green credentials are very solid.
And solid is as solid does. Until 2 seasons ago, "trained T R George, Slad" would appear against 60+ winners each season with healthy winnings in the range £700k - 1m. But like many of his rivals with medium-sized yards, the George stable has found it hard to match up to the big money being spent for the best quality bloodstock that is now being placed with the likes of Paul Nicholls, Nicky Henderson, Willie Mullins and Gordon Elliott in a concentration of firepower in fewer hands.
Expect therefore a repeat of the satellite operation overseen by George jnr at Chantilly, where a clutch of winners and placed hordses won over € 180,000 last winter. It will surely only be a matter of time before son Noel takes out a licence of his own in France.
It's an irony that the closer alignment of the sport between France and the UK is taking place at just such a time when politically we are further apart than in many years. But I suspect Tom's example will be followed by others as the winter unfolds.