Mason builds Rules success at Exeter
09-March-2021
09-March-2021 17:40
in General
by Admin
The spoils of National Hunt racing are shared among a diminishing number of mouths, as big stables field huge strings in excess of 150 horses. The times of Fred Winter winning a Trainers' Championship with 70 horses in the yard are now long gone; the finances of racing don't allow it.
Yet in virtually every county of England & Wales, and in the Borders too, there are trainers with small strings making a living and sneaking a victory here and there. The Point-to-Point division doesn't suffer from the same concentration of talent under relatively few rooves, but equally, the enthusiastic amateur owner-rider is as likely to have his/her horse trained professionally as do it themselves. This is hardly a new phenomenon. After all, in the Victorian era, professional liverymen prepared the horses for gentlemen jockeys to ride.
For those who don't live and breathe racing, every new result brings to light yet another trainer in a far flung part of the country. But to call Jennifer Mason a small trainer is to misunderstand a long Mason heritage of training and riding horses at every level of the Jump racing spectrum. This is a niche business but a very successful one too.
Jennifer, who with husband Peter, runs a breaking, Point-to-Point and fully licensed yard at Ablington, near Bibury, is part of a long line of Mason trainers. Peter's grandfather and father both trained and their 700 acre farm has allowed them to grow a racing business in parallel with orthodox agriculture. Jennifer holds the Rules licence, whilst Peter focuses on the pointers.
Today, however, was Jennifer's turn in the limelight, when 8 year old Pointing graduate Bonanza Sam secured his first win under Rules since he won a Monmouth Maiden in February 2019 in a handicap chase at Exeter. Leading almost from the off, he was briefly joined at the seventh before kicking on again and winning without recourse to the stick. Yet another successful Gloucestershire trainer!
Of course, to those who follow the Pointing scene around these parts, Peter Mason is a familiar figure. His Pithivier won the Lord Ashton of Hyde at Cocklebarrow in January 2019 with him on top, which feels an eternity ago. And over 450 rides have provided him a healthy tally of nearly 70 winners between the flags and in hunter chases.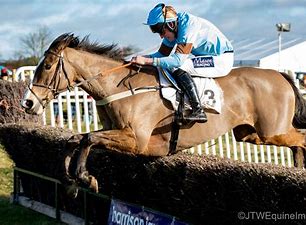 The pair have been training since 2007, and Peter's tally of 53 winners ranks him among Pointing aristocracy. Whilst Jennifer's record under Rules isn't paying anyone grander than the milkman just yet, if focused solely on their chasers, it would stand very respectably against the best with an 18% strike rate.
Little fish are sweet, as W A Stephenson once said one snowy day in March.