British Pointers lead the charge as Gloucestershire gets back to racing business
07-July-2020
07-July-2020 18:06
in General
by Admin
Gloucestershire trainers have not let the grass grow under their feet since Jump racing began last week. Winners have been flowing across the piece for those that have kept horses ready for summer campaigns, and Point-to-Point graduates have been earning their corn for their new handlers.
Jump racing began again last week after a 100 day absence that had old-timers harking back to the old season start in July down in the West Country. Those days are long gone, and in truth, the quality of summer jumping is far higher than any of the small field contests that used to grace Exeter and Newton Abbot back in the day. There are some hefty prizes about, even allowing for the current COVID impact on racecourse finances, and the field sizes indicate that plenty of trainers have kept their strings going through the early summer to make up for the loss of April's big prizes.
Fergal O'Brien, making the best of his new premises at Withington, was first off the mark for the county, when his well travelled 6 year old Ultimate Getaway made his graduation from the Point-to-Point field to win a Bumper by 1 1/2 lengths. Ultimate Getaway learnt most of his trade in Ireland last Spring, but moved across to Courtney Tinkler mid summer and ran into the minor placings just 4 1/2 lengths off the winner in a Point-to-Point Bumper at Alnwick last December; proof were it needed that Pointing Bumpers are fulfilling an educational role for young horses as they move up the ranks into the professional mainstream.
Ben Pauling, geographically the nearest trainer to Cocklebarrow, was next up, opening his score for the season with 6 year old hurdler Tel'Art, until then, a maiden over hurdles or fences. Winning easily, I suspect you'll see this one out again promptly before his handicap mark alters. Sebastian Beach made the season's opening day a double for Ben when winning in hand in the concluding hurdle. Looks like all that hard work in the past 3 months is paying off.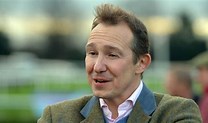 It was the turn of the team at Jackdaws at yesterday's fixture at Uttoxeter, as father and son team of Jonjo O'Neill won the day's award for most banal race title - the Price Promise at Bet365 Handicap Hurdle with topweight Perfect City, whilst today the mantle has passed to Graeme McPherson, winning Newton Abbot's handicap hurdle by a length with 7 year old Sammylou. Graeme is sending Point-to-Pointer Gold Time, seen at Cocklebarrow in January, to the Goffs Sale at Doncaster at the end of this month.
Racing has a wonderful capacity of resilience against adversity. Whilst the economy has taken a nosedive during the lockdown, patient owners have continued to live the dream that is leading in a winner (or as is more likely nowadays, watching it remotely). It offers succour for a rumbustuous return to action when Pointing begins again, earlier than usual if plans come to fruition, in October.
Look out here for details of upcoming fixtures as early as October.