Mason capitalizes on small fields whilst Jason Warner enjoys four quick winners
06-April-2021
06-April-2021 19:40
in General
by Peter McNeile
This long spell without rain, together with a flurry of fixtures to remark the Point-to-Point season, has brought hunter chase fields down to single figures once again, and smart handlers looking to pick up some ones against their horses' names can run up a sequence quite quickly.
Today's Totnes & Bridgetown Races Company Hunters' Chase at Exeter is a typical case in point, where Bibury-based Peter Mason took home £1,539 rather more easily than he might have achieved in an Open race at Maisemore, Kimble or Dingley over the weekend. A four runner field allowed eight year old Wick Hill, five times a winner between the flags, to clock up his first victory under Rules in five attempts, after transferring from Charlie Longsdon 4 years ago.
Another man with strong Cotswold credentials has run into a seam of form over Easter that is the classic London bus syndrome - nothing for ages, then a queue of winners forms. Jason Warner, also secretary of the Cotswold Vale Farmers Point-to-Point, is enjoying a purple patch as an owner and trainer with four winners since Good Friday at three fixtures.
A double at Higham on Friday afternoon, another winner less than 24 hours later during the North Staffordshire meeting at Sandon before finally causing one of the biggest upsets of the season at Dingley on Monday concluded a memorable weekend.
"Keep yourself in the best company and your horses in the worst" is an old racing adage but one which Warner is comfortable with as he explained after French Piece had completed his hat-trick following wins in a Pyle Maiden and a Llwyn Du Restricted in 2019.
"He was ready to run last year but needs good ground and then Covid struck", Warner said later. "He came to me from David Bridgwater about three years ago. He was very immature but Luke Price has done a good job with him and he will come on for the run. He is not the easiest horse and that is why we do not have him at home. I am not sure how long this run will last, but we will enjoy it while we can".
The winner made the running until going a couple of lengths clear of Donjon with a circuit to jump. Byron Moorcroft quickened the pace down the back straight and the partnership had more than doubled their advantage as they turned back towards home. Donjon tried his best on the climb to the second from home but French Piece had the race in his pocket despite running down the final obstacle.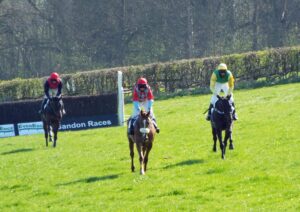 As well as training himself Warner has horses based with others including Thumbstone Blues who is with James King. The 11-year-old won on the heavy at Cothelstone in 2020 but was not inconvenienced by firmer conditions when he became the first leg of a double for Gloucester owner in the Essex and Suffolk Veterans race at Higham on Saturday.
He was prominent throughout before leading at the 13th and had his rivals measure approaching the penultimate and had no difficulty holding the challenge of the favourite Mercers Court from that point.
Connections struck again in the Maiden, with Warner listed as the trainer of Ahead of the Game. King was content to bide his time on the ex-Paul and Claire Rooney gelding but after leading at the 15th went away to score easily by 12-lengths.
Warner seemed to ignore his own advice as he chose to take on the "red hot favourite" Fumet D'Oudairies in the 2-1/2 mile Mixed Open at Dingley on Monday. That policy paid off when Always Lion made it four wins from four runners for the owner when James King's mount brought off one of the biggest upsets of the season.
All seemed to be going to plan for Andrews's mount as Always Lion tracked the long-time leader Knockoutloaded before taking over the baton approaching four out, while Andrew's was waiting to deliver his challenge.
Passing the three-mile start Fumet D'Oudairies had to be driven to maintain contact with his rival, who had secured the vital inside berth around the final bend.
They challenged again approaching the final obstacle but Always Lion was quicker away and inched clear as his rival's effort petered out in the final 50 yards, with Andrews explaining "the horse did not like the ground".
As well as being the winning jockey, James King is also the trainer and he went on to explain "The horse has only had 10 runs in his life. He missed 2016 and 2018 and there were no obvious excuses for the runner up. Although he is 11-year-old he is still learning and he had run well at Larkhill earlier in the year."
It would appear then that winning sequences are not solely the domain of the likes of Mullins, Henderson or Skelton. Lightning strikes more than once in the amateur game too!