Keighley is back among the winners
03-June-2021
03-June-2021 18:46
in General
by Peter McNeile
Arnold Palmer once said,"The harder I practice, the luckier I get". It's an adage all too familiar to racehorse trainers, but sometimes when your luck is out, you just have to trade through it. Sometimes, luck is playing against you; sometimes, your horses are performing below their best; sometimes, they're just plain not good enough.
Two of the hardest-working people I know are Martin and Belinda Keighley, who endured a torrid last season, where all their numbers were the worst in their training career: lowest number of winners, lowest number of runners, weakest strike rate - a veritable collection of negatives.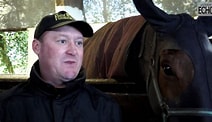 This is grievious from a pair who set out with a dream to establish themselves in the village where their hero and one-time employer had established his reputation - one David Nicholson, aka The Duke. The Nicholson yard is now a cul de sac of desirable converted Cotswold dswellings, but the Keighley yard, half a mile up the road, holds to all the old Nicholson traits, perhaps without the barking.
And after 11 months of below par performance, things look to be coming good for Martin in a big hurry, to paraphrase Australia Ashes skipper Kim Barnett in 1981. Today the Keighley team scored a double no less at Ffos Las and Uttoxeter, courtesy of a James Best-ridden Pay The Woman, ridden out to win a novices hurdle at the former, and 15 minutes earlier, an authoitative 11l vicotry for Enforcement under Sam Twiston-Davies in a novices handicap chase.
Neither is a highly-rated horse, but winners are winners, whatever the standard. Enforcement may well improve for the run, this being only his third run over the larger obstacles.
Both husband and wife cut their teeth in the Point-to-Point field. Martin saddled around 50 runners in the early years of this millenium, often ridden by Belinda. But the Rules game was always their destination. When horses like Champion Court (Dipper Novices Gr II 2012 and Silver Trophy Chase Gr II 2013), Annacotty (Feltham Gr I 2013, Freebets Handicap Chase Cheltenham Gr III 2015) were strutting their stuff, it looked all too easy.
The road back to the top is steep, and pitted with holes. But if this season's 5 winners are anything to go by, that climb has started already.