Martin & Bailey: two sides of the same coin
02-December-2021
02-December-2021 19:40
in General
by Peter McNeile
Two trainers at opposite ends of the racing pyramid enjoyed success at far-flung Market Rasen today.
Andrew Martin trains in Swerford outside Chipping Norton. He's no stranger to tracks around the Midlands, having ridden some 84 Point-to-Point and Rules winners in his time. He also trained his own Pointers until taking out a permit in 2011, since when he's squirrelled away over 20 winners of his own. He's also a licenced farrier.
Five year old Midnight Ginger was the latest of his small string to do the honours, showing apparent improvement in form to win a moderate boys' race at Market Rasen (or perhaps one should say Conditional Jockeys, now that so many of our young riders are women). The stewards enquired after the improvement which was put down to better fitness after a long break and a drop back in trip.
Given that he's been well reported previously to back his own horses, selecting Martin - trained winners might often be a case of following the market. After all, it's a well tried method to alter the distance at which a horse runs in order to get a run of zeros against it. There is barely a trainer in the land who hasn't pulled that one, and sadly, it's an indictment of the poor returns from prize money that encourages it.
At the opposite end of the spectrum, Kim Bailey secured his first winner in a fortnight, and just his 13th in all this season, when Chianti Classico won the concluding bumper. This time last year, Bailey was basking in the reflected glory of 34 winners, headlined by Imperial Aura, El Presente and Does He Know.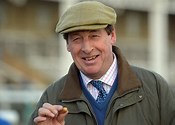 There's no evidence of anything amiss at Foxcote however. Like everyone else, Bailey, with the patience of Job, is waiting on softer ground for some of his bigger guns to reappear. And whilst this is leading to some small fields, especially in novice chases, it is hopefully a passing phase.
There have been contrasting fortunes for organisers of early season Point-to-Point fixtures too. Fields that normally force race divisions at this time of year have been in single figures, with poor unfortunate Higham enduring just 14 runners a week ago. There's better news from , which launches the Wiltshire scene next weekend, where the ground is described as good. Fingers crossed that rain will arrive soon.